Suzuki Repair Manuals
Download a repair manual straight to your computer, tablet or smart phone in seconds. All manuals are in pdf format for quick easy download. No special software required to download a manual. Once downloaded, feel free to save the manual to your downloads folder or desktop forever.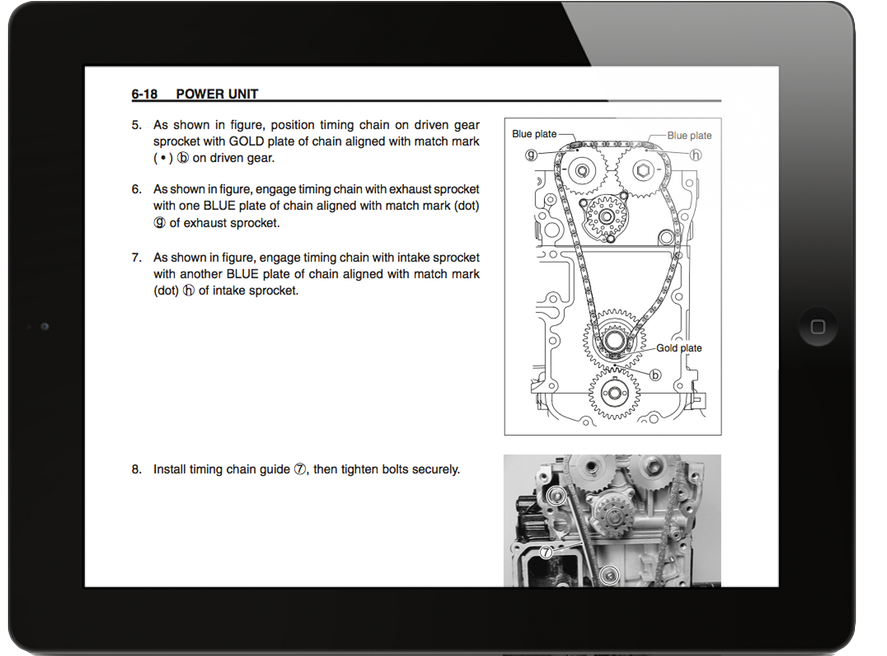 Suzuki ATVs are nice investments for anyone who likes to drive off-road or on any uneven terrain. But like with all automotive vehicles, there is always the chance of a breakdown or accident happening with your ATV. You might even be left stranded somewhere far away from home or civilization. All you'll have is yourself to depend on.
In these situations, you'll need the Suzuki ATV repair manual to guide you in repairing your vehicle and getting it moving again. You can download the ATV repair manual onto a tablet or smartphone because it comes in digital PDF format. Whenever you drive your ATV, just keep your mobile device with you. Then if your ATV breaks down and leaves you stranded, you can pull up the repair manual on your device and figure out how to get your ATV running again.
The ATV repair manual can teach you how to repair virtually every major area of your vehicle, such as the steering system, exhaust system, starting system, electrical system, fuel system, suspension system, and so on. You'll even learn about how to troubleshoot your ATV to figure out what its problems are and how they can be fixed. This is helpful for any ATV user who is not an experienced mechanic.
There isn't just one universal repair manual for all models of the brand. Since each model tends to have a different mechanical organization, you'll need to purchase an ATV repair manual that was made specifically for the same ATV model in which you own. That way, the instructions and tutorials in the manual will perfectly match what you see under the vehicle.
Alongside every set of instructions, you'll see pictures and diagrams which do a great job of visually explaining what you're reading. You can just follow along with the step-by-step instructions by comparing what you're reading to what is shown in the visual elements. This makes it so much easier for inexperienced users to understand what to do quickly.
The ATV repair manual costs $14.95. Once you make the payment, you'll immediately have access to the download link. The PDF file gets stored on your computer or mobile device for safekeeping. This allows you to access the file even when you're offline, which is perfect for situations where you're stranded somewhere far away.
Make sure you keep a handy set of tools with you. The ATV repair manual will recommend the best tools to have readily available to make the most common repairs. Heed this advice.