Yamaha Repair Manuals
Download a service repair manual to your computer, tablet or smartphone instantly. The e-manuals are in .pdf format for quick, easy download. Save the manual to your digital device and keep it forever.
WAVERUNNER MANUALS:
JET-BOAT MANUALS: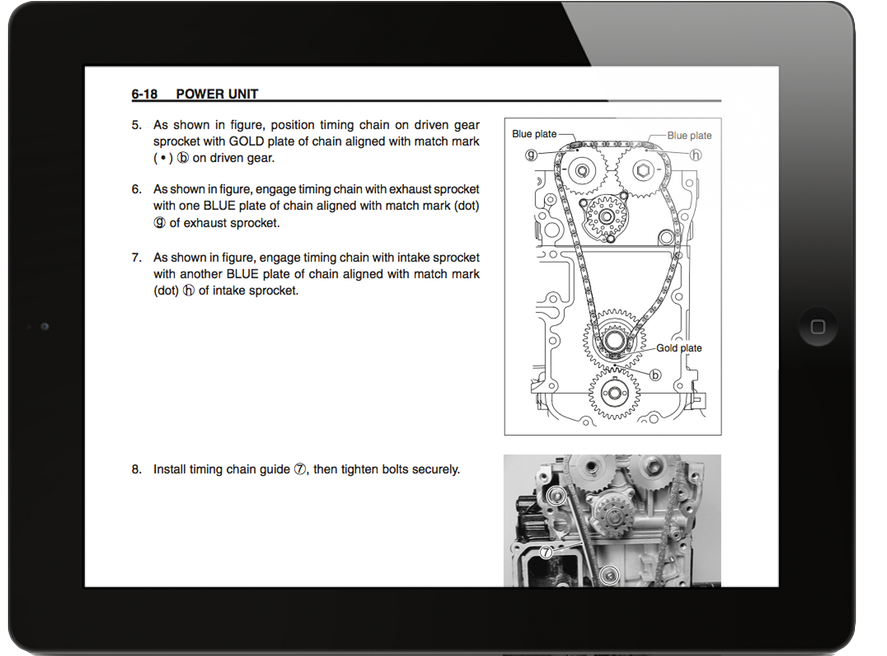 Yamaha Jet-Ski Repair Manual
A Yamaha jet-ski repair manual, also termed Yamaha WaveRunner service manual or Yamaha personal watercraft (PWC) shop manual, is a book of instructions for learning how to fix or mend the small, jet-powered craft that skims across the surface of water. The reference book is in electronic format and provides detailed information telling how to service, maintain and repair the watercraft based on the manufacturer recommendations.
There are a two different types of Yamaha jet-ski manuals used to repair your watercraft. One type of manual is called a repair manual and the other type is referred to as a factory service manual FSM. Repair manuals are handbooks published by 3rd party publishers, which is someone other than the manufacturer of the watercraft.
Yamaha WaveRunner factory service manuals are manuals that are issued by the manufacturer and distributed to privately owned certified WaveRunner repair shops and dealership technicians. Factory service manuals are highly detailed instruction books which cover serving, maintenance and repair.
What's the different between the two types of manuals? A Yamaha jet-ski repair manual is a repair book that gives repair instructions in laymen terms. It is geared toward DIY enthusiast. Repair manuals are not always model, year specific and they mostly provide generic repair information. The books are great for people need to perform simple maintenance but not great for moderate or complicated repairs.
A Yamaha factory service manual is a highly detailed instruction book. The repair book details every vehicle component precisely. It provides model, year specific information on maintenance, service, troubleshooting, part testing and repair. It includes step-by-step service procedures, diagrams, illustrations, specifications and exploded parts views.
A WaveRunner service manual is developed for mechanically minded people. The book assumes the repairman already possesses the skills required of a mechanical engineer. It is for that reason, much of the service manual contains technical terminology or industry terms. This type of manual may not be suitable for a person not mechanically inclined.
Regardless of your understanding of machinery or working parts on a personal watercraft, never attempt to carry out repair work unless you have a service manual to guide you. If dealership technicians and local repair shops use them, you should to. That last thing you want to happen is to get stuck out on the open ocean in late evening with the sharks circling your boat.
The good news: You can download a jet-ski repair manual straight to your computer, tablet or smart phone, instantly. The e-manual, termed e-book, is in electronic .pdf format and can be transmitted to your electronic device within seconds. So what are you waiting for? Download the digital book and fix your problems now!