Yamaha Big Bear 400 repair manual, commonly known as Yamaha Big Bear 400 all-terrain vehicle factory service manual or Big Bear 400 workshop manual, is a book with repair instructions on how to fix or restore the vehicle to working order.
Yamaha Big Bear 400 repair manuals cover every aspect of repair—whether performing a tune-up or overhauling the ATV's engine—the repair manual covers it all.
A Yamaha Big Bear manual outlines part removal, disassembly, cleaning, inspection and repair using factory approved procedures. In fact, these manuals are the same books used by factory trained mechanics.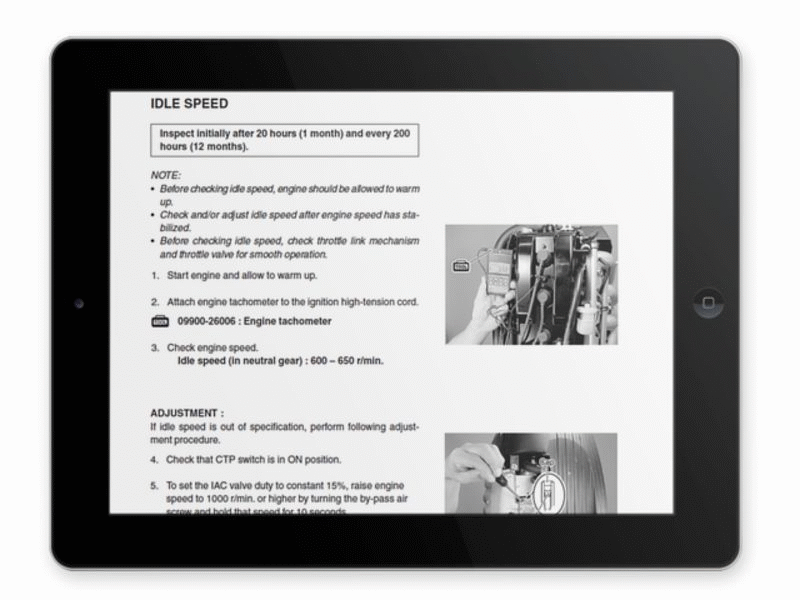 What's in a Yamaha Big Bear 400 manual?
Traditional paperback repair manuals is what most of us grew up using to fix our four-wheelers, but those days are finished. Today we use digital manuals.
Digital repair manuals appear identical to a paper manual, except of course they are in digital format and transmitted directly to a computer, tablet or smartphone upon clicking on a direct download link.
The manuals contain all of the same great information. Here's a small list of topics generally found in a Yamaha Big Bear 400 repair manual:
Table of Contents
Chapter 1 General Information

Chapter 2 Specifications

Chapter 3 Adjustments and Routine Inspections

Chapter 4 Engine Overhaul

Chapter 5 Carburetor

Chapter 6 Drive Train

Chapter 7 Chassis

Chapter 8 Electrical

Chapter 9 Troubleshooting

Chapter 10 Wiring Diagrams
As with all repair manuals, Yamaha Big Bear 400 manuals contain subchapters. So for example Chapter 4 (Engine Overhaul) covers topics such as engine removal, engine disassembly, inspection and repair, middle gear service and engine assembly and adjustment.
What if you don't know the source of the problem?
All Yamaha Big Bear 400 repair manuals contain a troubleshooting section within the book, typically at the end of the manual.
Troubleshooting helps trace and correct faults in the Big Bear's mechanical or electrical system. It helps the average do-it-yourself mechanic, especially one with little mechanical know-how, to find and correct issues using a systematic approach to problem solving.
What can it teach you? It can help you diagnose and correct:
Starting failure or hard starting issues

How to correct poor idle speed performance

How to fix poor medium and high speed performance

How to fix a faulty drive train

What to diagnose and fix faulty gear shifting

Clutch slipping or dragging

Overheating problems

Faulty brake issues

Shock absorber malfunction

Unstable handling

Lighting system problems.

Which Yamaha Big Bear 400 manuals are available for download?
| | | |
| --- | --- | --- |
| 2000 YFM400NM Big Bear 2WD | 2000 YFM400NMC Big Bear 2WD | 2000 Big Bear YFM400FWNM 4WD |
| 2000 YFM400FWNMC Big Bear 4WD | 2000 YFM400FWNHM Big Bear 4WD Buckmaster | 2001 YFM 400 Big Bear 400 2WD |
| 2001 YFM400HN Big Bear 2WD Realtree | 2001 YFM400FN Big Bear 4WD | 2001 YFM400FHN Big Bear 4WD Hunter |
| 2002 YFM400P Big Bear 2WD | 2002 YFM400HP Big Bear 2WD Hunter | 2002 YFM400FP Big Bear 4WD |
| 2003 YFM400NR Big Bear 400 2WD | 2003 YFM400FWR Big Bear 4WD | 2004 YFM40S Big Bear 400 2WD |
| 2004 YFM40FS Big Bear 400 4X4 | 2005 YFM40FT Big Bear 4WD | 2006 YFM40FV Big Bear 400 4WD |
| 2007 YFM40FBW Big Bear 400 | 2007 YFM40FBHW Big Bear 400 Hunter | 2007 YFM40FBEW Big Bear IRS Exploring Edition |
| 2008 YFM40FBXR Big Bear 400 4WD | 2008 YFM40FBXL Big Bear 400 4WD | 2008 YFM40FBXGR Big Bear 400 4WD |
| 2008 YFM40FBHX Big Bear 4WD Hunter | 2009 YFM40FBYL Big Bear 400 4WD | 2009 YFM40FBYGR Big Bear 400 4WD |
| 2009 YFM40FBYB Big Bear 400 4WD | 2009 YFM40FBHY Big Bear 400 Hunter | 2010 YFM40FBZGR 400 |
| 2010 YFM40FBZL 400 4WD | 2010 YFM40FBHZ 400 4WD Hunter | |