If you work on your Yamaha Grizzly 660 yourself, it's imperative to have an ATV repair manual. This book of repair instructions illustrates and documents how to maintain and service your all-terrain vehicle. The factory service manual helps you to make sense of the repairs needed on your 4-wheeler.

What is an ATV Repair Manual?
A digital download of the Yamaha Grizzly 660 repair manual contains every guideline and instruction you need for maintenance and service of your all-terrain vehicle. When you need guidance regarding the repair of your one- or two-seat ATV that has three or more wheels, you can rely on this manual. Order your book online and receive an instant download for immediate access.
There are a few options of repair manuals for your ATV. Choose from:
Factory Service Manual

Owner's Manual

Owner's Workshop Manual

Repair Manual
If you don't know the difference between these four books, we have the descriptions you need.
Yamaha Factory Service Manual
The FSM, otherwise known as the Yamaha Factory Service Manual, is published by the manufacturer. It provides instructions and guidelines related to the maintenance, service and repair of your Yamaha. This manual covers every aspect of restoration with its step-by-step procedures. You will find torque specification, dimensions and part numbers used by your off-road vehicle.
Grizzly Owner's Manual
This manual is often referred to as an instruction manual or user guide. It comes with your Yamaha Grizzly at the time of sale. Inside this manual, you will find:
Setup instructions

Safety guidelines

Maintenance needs

Assembly instructions

Warranty information

Operating tips

Technical specs
Yamaha Owner's Workshop Manual
This shop manual contains information regarding repair, maintenance and service for your Yamaha Grizzly. It's designed for an owner who isn't a professional or has limited mechanical knowledge. The clear-to-understand instructions come with photographs, illustrations and diagrams to make service easier.
Yamaha Grizzly 660 Repair Manual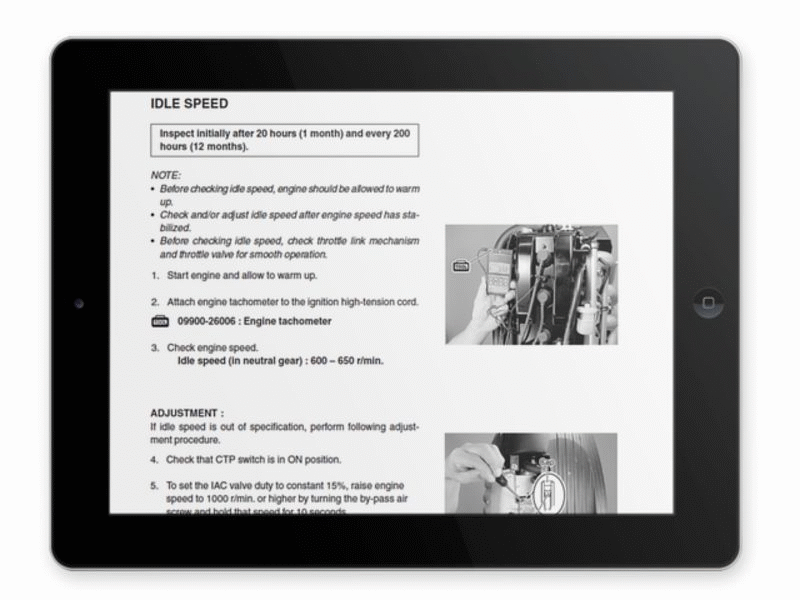 A Yamaha Grizzly 660 repair manual contains all the maintenance and repair needs for your specific ATV. It provides more detail than an FSM and has all the instruction you need for basic maintenance to in-depth repairs. Users find that the directions are simple to follow and enable anyone to complete a repair, no matter what their ATV knowledge is.
Some aspects you can expect to find in a repair manual include:
Color wiring diagrams

Upgrade specs

Advanced troubleshooting procedures

Instructions to disassemble and reassemble the vehicle
Benefits of Owning a Repair Manual
While each of these manuals is helpful for any Yamaha Grizzly 660 owner, the repair manual is a must-have component. Not only will it walk you through every detail of repair and maintenance, but it keeps you from getting stuck while working on the vehicle.
Even if you have no mechanical expertise, you can utilize this guide to maintain, service or repair your all-terrain vehicle. The informative photographs, illustrations and diagrams provide all of the guidance you need for service. Because the manual comes as a download, it remains in perfect condition. Access it at the shop on any device and you won't have to worry about it getting stained or ripped.
Download a Digital Manual Instantly
Download a Yamaha Grizzly 660 repair manual straight to your computer or tablet in seconds. Each manual appears identical to a repair manual you would get in a store. Manuals are available for the following models:
| | | |
| --- | --- | --- |
| 2002 Grizzly Silver YFM660FSAP | 2002 Grizzly 660 HTR Edition YFM660FHP | 2002 Grizzly YFM660FP |
| 2002 Grizzly YFM660 FAP | 2002 Grizzly 660 Silver YFM660FPS | 2003 Grizzly 660 4X4 YFM660FRGY |
| 2003 Yamaha Grizzly YFM660FR | 2003 Grizzly Wetlands HE YFM660FHRWL | 2003 Grizzly RT HDWD YFM660FHRH |
| 2004 YFM660FSC Yamaha Grizzly | 2004 YFM660FS Grizzly 660 | 2004 Grizzly 660 L.E. YFM660FLES |
| 2004 Grizzly Wetlands YFM660FHSWL | 2004 Grizzly 660 HW YFM660FHS | 2005 Grizzly 660 YFM66FAT |
| 2005 Grizzly 660 SE YFM66FASET | 2005 Grizzly Hunter Wetlands YFM66FAHWT | 2005 Grizzly Hunter YFM66FAHT |
| 2006 Grizzly 4WD Outdoorsman Green Hunter | 2006 Grizzly 660 4WD YFM66FABGHV | 2006 Grizzly 660 4WD YFM66FABGGV |
| 2006 Outdoorsman Hardwoods HD Camo | 2006 Duck Unlimited Edition YFM66FAHDV | 2006 Grizzly 660 Hunter YFM66FAHV |
| 2006 Yamaha Grizzly Special YFM66FASEV | 2006 Yamaha YFM66FAV Grizzly 660 | 2007 Grizzly 660 Hunter YFM66FGHW |
| 2007 YFM66FGW Grizzly 660 | 2008 Grizzly 660 Hunter YFM66FGHX | 2008 Yamaha Grizzly YFM66FGXGR |
| 2008 Yamaha Grizzly 660 YFM66FGXR |   |   |