Download a Yamaha Venture 600 snowmobile repair manual instantly. A digitally delivered snowmobile repair manual is an electronic book of instructions. The book of repair instructions, also referred to as a factory service manual or workshop manual, is for learning hot to maintain and repair the machine back to working order. It covers overhaul, rebuild, service, maintenance, troubleshooting and adjustment procedures.
The history of today's recreational snowmobile is an interesting story. Ironically, it is amazing to note that the Wright Brothers were able to master flight before any man was ever able to master snow travel.  What is impressive and head-scratching at the same time though is that man actually flew before he could master snow travel. Thankfully, in 1909, a man by the name of O.C. Johnson built an over the snow machine that actually drove on top of the snow. Well, most of the time.
A snowmobile is defined as an open vehicle designed for usually just one rider (occasionally two) with steerable skis operated by handlebars in the front and an endless rotating belted track on the back. Today's top snowmobile manufacturers in North America are Arctic Cat, BRP (Ski-Doo), Polaris, and Yamaha.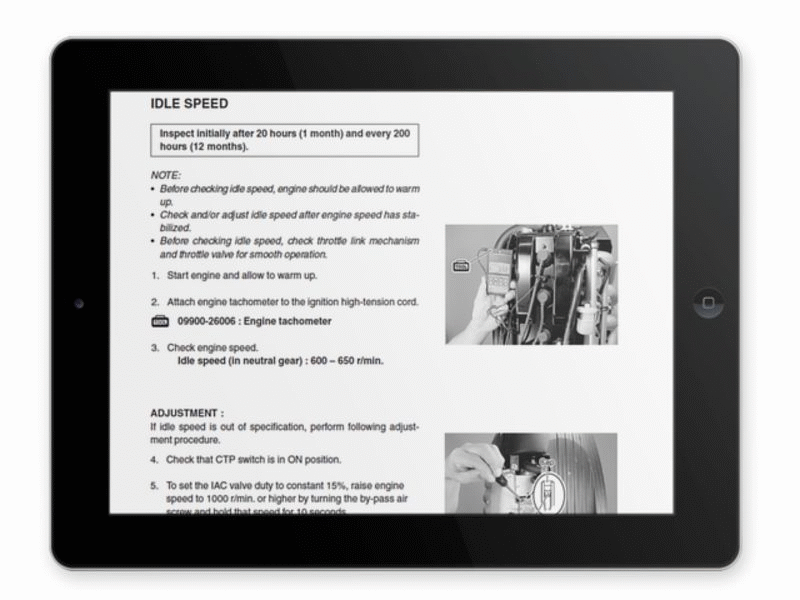 Importance of Owning a Yamaha Venture 600 Repair Manual
Owning and knowing how to use a Yamaha Venture 600 snowmobile repair manual is critical to ensure that your machine can operate safely and effectively when you are out on the trail. While Yamaha Venture 600 snowmobiles are constructed quite well, things do go wrong due to the harsh conditions that snowmobiles often operate in, and the rough riding that some riders tend to prefer. Owning a repair manual will provide you with the necessary steps needed to conduct routine maintenance. And, for those handier that enjoy a DIY (do-it-yourself) challenge, the repair manual can serve as a guide for more complicated repairs as well.
Typical problems that snowmobile operators experience include:
Fouled electric starter

Overheating

Blown belts

Blown spark plugs

Broken wear bars
And, there is maintenance that should be conducted each and every season before taking a snowmobile out for a ride. Each season, an operator should inspect the clutch, check the brake pads, inspect wheels and bearings, inspect suspension rales, torque arms, and hardware, and adjust the track and align the skis. Carbides (called ski runners by snowmobile manufacturers) also need to be replaced every one or two years, depending on their condition.
This handbook for repair, maintaining and increasing the performance of your snowmobile is a must-have if you plan to do your own work.
Benefits of Having a Venture 600 Repair Manual
There are several benefits to consider when purchasing a Yamaha Venture 600 snowmobile repair manual. Having a repair guide on hand can help you prepare for emergencies when you are out on the trails. By having your repair manual with you, along with the following supplies, you will be able to fix the majority of issues that can delay you on the trail.
Extra (new) belt

Spare spark plugs and sparkplug tool

Small socket wrench set

Slotted and Philips screwdrivers

Electrical tape and duct tape

Emergency starter rope

Zip ties
When you conduct your own maintenance and common repairs, you can save several hundred dollars each season. Not only that, you will save considerable time in towing your broken-down machine for the rest of a trip, then trailering to a nearby mechanic. Weekend repairs, especially when you want to get back with your friends on the trail fast, are usually subject to higher rates and fees.
Because you won't always know what to do when you run into trouble, and you may be stressed when you are stuck in the snow, referencing a repair manual with clear instructions can help you understand the root cause of your problem and make the corrections necessary to keep you on your way.
Download a Repair Manual
911manual.com is your #1 place for digitally delivered repair manuals. Get an electronic manual transmitted directly to your computer, e-reader, tablet or smartphone in seconds. Digital manuals are available for the following models:
| | | |
| --- | --- | --- |
| 1997 VT600A Venture 600 | 1998 VT600B Venture 600 | 1999 Yamaha VT600C Venture 600 |
| 2000 VT600D Venture 600 | 2001 Yamaha VT600F Venture 600 | 2002 Yamaha T600G Venture 600 |
| 2004 VT60J Venture 600 | 2005 VT60K Venture 600 | 2006 VT60L Venture 600 |